With the desire to organize a meaningful event, a useful playground for children who are children of employees on the occasion of Children's New Year. Simon Electrical Equipment Joint Stock Company Vietnam held a talent contest with the theme "Super talented kid".
The program is a space for children to freely express whatever is their strong point or what they like such as singing, drawing, reading poetry, dancing, playing musical instruments, painting statues, telling stories, etc. help children develop confidence and create a bond between children and parents.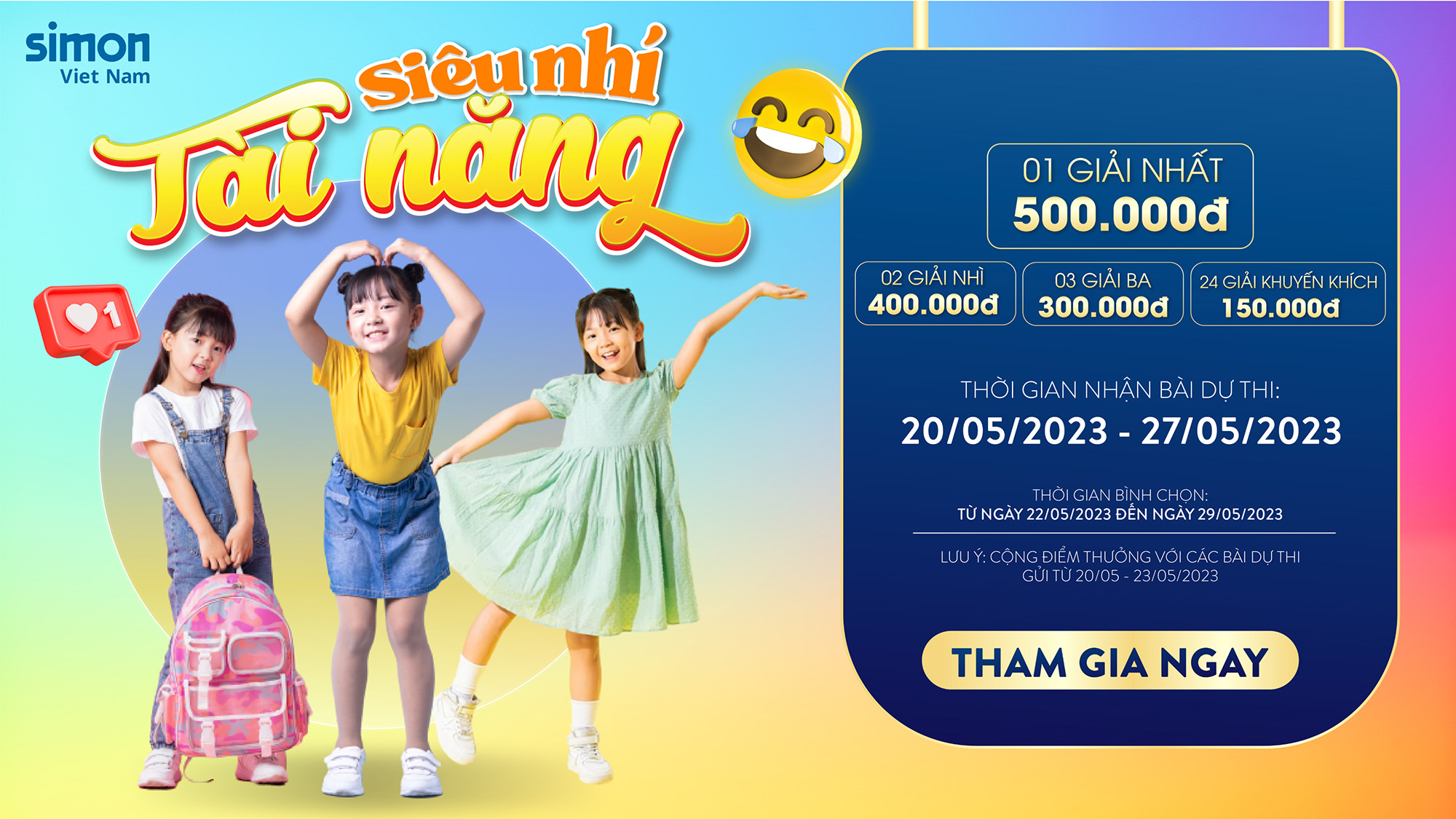 How to join
Step 1: Submit your entry
Parents send their entries to BTC via Mail: bantinsimonvietnam@gmail.com
Fill in all information and artwork (Full name of contestant child - Name of parents - Work area - Message)
Example: Child: Nguyen Thi A – Father: Nguyen Van B – Simon in Hanoi/Da Nang/Ho Chi Minh/Can Tho area – Message: Wish you have a holiday full of joy, health and happiness. study well.
Note: Pictures of children will be posted publicly on social networks, parents need to consider when choosing pictures of children participating in the program.
BTC will accept entries from May 20, 2023 - May 27, 2023
Contents of the contest
Parents support the children to take pictures / record clips to show their talents or lovely moments with the theme of Children's Day.
For children under 5 years old: Parents choose photos and lovely moments of their babies to participate in the program.
For children over 5 years old: Children are free to do any activities they like to lead to the spirit of Children's Day.
Children choose to participate in the contest in the form of video clips/or photo series showing whatever is their strong point or what they like such as singing, dancing, dancing, drawing, reading poetry, painting statues, playing musical instruments, dancing. martial arts, story telling, host...
Step 2: Call to interact
Immediately after the works were submitted, the organizers posted the article on the Fanpage "Simon Vietnam Company"
Employees go to the post to get the link of the work to call for interaction (like / drop heart / share) within the specified time (Since the post was posted - 00:00 on May 30, 2023).
Note: From 00:00 on May 30, 2023 BTC will close the voting function and conduct scoring statistics.
Employees like / drop hearts / share (share) BTC's post to public mode, click follow (follow) Fanpage "Simon Vietnam Company"
Award announcement time
Enter June 1, 2023 announced the results of the contest.
Prize structure
The 30 awards include:
1 First Prize: 500,000 VND/ 1 Prize
2 Second Prizes: 400,000 VND/ 1 Prize
3 Third Prizes: 300,000 VND /1 Prize
24 Consolation Prizes: 150,000 VND/1 Prize
The prize structure will equally divide the office areas of Hanoi, Da Nang, Ho Chi Minh, Can Tho and Hung Yen Factory as follows:
Hanoi: 07 prizes
Da Nang: 02 prizes
Ho Chi Minh: 04 prizes
Can Tho: 01 prize
Factory: 16 prizes
How to calculate points
Total score = Voting interaction + Early submission bonus
In there:
Bonus points (When works are submitted in 4 days: from 20/05/2023 to 23/05/2023.
Submit on May 20: plus 40 points
Submit on May 21: plus 30 points
Submitted on May 22: plus 20 points
Submitted on May 23: plus 10 points
Voting interaction score is calculated by the total number of likes/drops (favorites), shares (shares) on each entry.
Rules for points: (1 like/drop heart = 1đ, 1 share = 2d)
Note about valid entries
Each child is only allowed to submit 01 photo work or 01 video clip to the contest; Unlimited shooting equipment (recording, taking photos with smartphones, cameras...);
If the family has 2 children in the contest age, parents can choose to combine them into 1 entry or 2 entries.
With a photo contest
It is recommended that the photo submitted for the contest must be in JPG format, size 960 x 640 (for horizontal images), 640 x 960 (for portrait photos) to ensure the quality of images displayed on the fanpage;
Images show the content conveyed, creative.
With the video clip contest
Video entries must be at least 60 seconds and maximum 3 minutes; Size <25MB
Full HD video format, 720p or higher, clear image and sound, minimize shaking, blurry image, unclear content;
The videos are guaranteed to be copyrighted in terms of sound (if any background music is used), the Organizing Committee is not responsible for the loss of sound in the contest post due to copyright infringement;
The video shows the content to be conveyed and is creative; The video is used with visual and sound effects.
Special note: The Organizing Committee only records interaction points (like/drop heart, share) on entries posted on the website. Fanpage "Simon Vietnam Company""
Any questions please contact: