With the desire to organize a meaningful event, a useful playground for children who are children of employees on the occasion of the Mid-Autumn Festival. Simon Vietnam Electrical Equipment Joint Stock Company organized a photo and video clip contest with the theme "Come with me to welcome the Mid-Autumn Festival"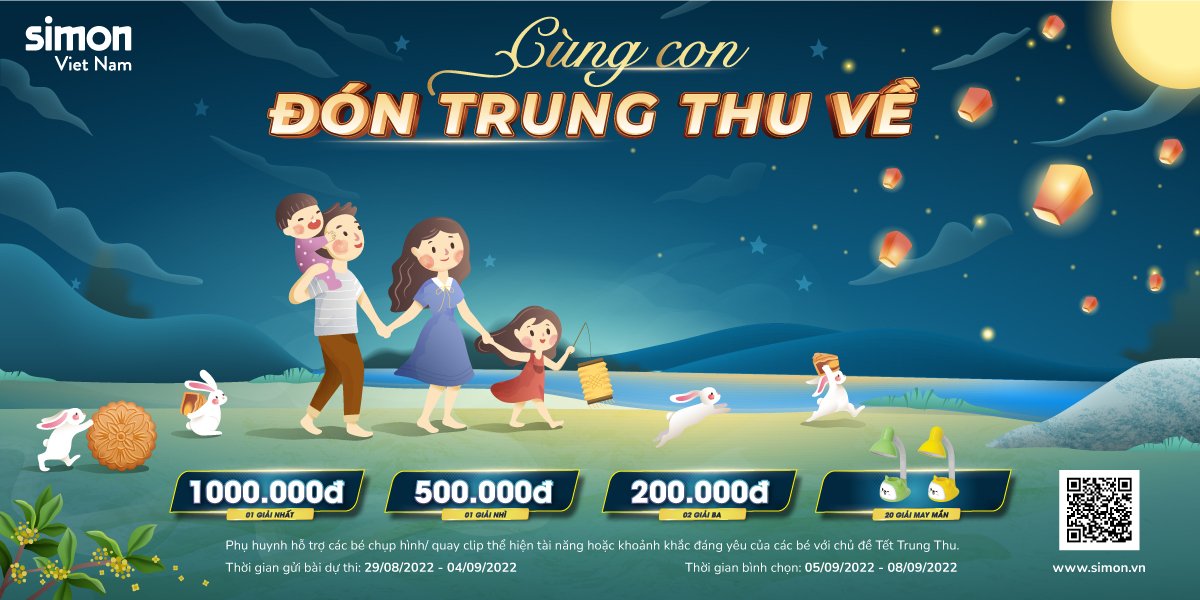 HOW TO JOIN: 
Step 1: Submit your entry
Parents access the link and send their children's entries to the organizers via the website link: https://simon.vn/cung-con-don-trung-thu-ve/.
Fill in the information, message and send photos/videos on from below;
The organizers will review the valid exam and post your entries on the Fanpage "Simon Vietnam Company" on September 5, 2022;
Note: BTC will receive entries from the date 29/08/2022 – 04/09/2022.
Contents of the contest
Parents support children to take pictures/record clips to show their talents or lovely moments with the theme of Mid-Autumn Festival. 
Content you can create: Mid-Autumn Festival activities, celebrating your child's Mid-Autumn Festival outing with family, breaking dinner moments, my most memorable Mid-Autumn Festival lantern procession, I personally experienced Making traditional Mid-Autumn Festival toys, children show their talent in dancing and singing Mid-Autumn songs...
And write together the content of the message you want to convey through your photos/video clips (100-200 words).
Parents, please like/drop your heart, share (share) BTC's post to make it public, click follow (follow) Fanpage "Simon Vietnam Company".
Step 3: Call to interact
On September 5, 2022 BTC posted their entries on Fanpage "Simon Vietnam Company"
Parents go to the post to get the link of their child's entry (with photo/video, message of their child's submission) to call to interact (like/drop heart, share) for your child's entry within the allotted time (From 05/09/2022 – 08/09/2022).Note: On September 9, 2022 BTC will close the voting function. 
TIME ANNOUNCEMENT OF AWARDS:
On September 10, 2022, the contest results will be announced.
PRIZE STRUCTURE:
(*) There are 24 prizes awarded including 04 Main Prizes and 20 Lucky Prizes, specifically:
01 First Prize: 1,000,000 VND 

01 Second Prize: 500,000 VND 

02 Third Prizes: 200,000 VND each 

20 Lucky Prizes: 01 desk lamp for each prize
HOW TO CALCULATE POINTS:
total score = 50% vote interaction + 50% Scores are graded by the judges
In there:
Voting interaction score is calculated by the total number of likes/drops (favorites), shares (shares) on each entry.
Point rules: (1 like/drop heart = 1 VND, 1 share = 2 VND)
Scores are scored by the jury based on the following criteria: The test is valid, the topic is correct, the content conveys meaning and is creative...
NOTES ABOUT VALID TEST:
Each contestant can only submit 01 photo work or 01 video clip to the competition; Unlimited recording equipment (taken with smartphones, cameras...);
For photo submissions:
It is recommended that the photo submitted for the contest must be in JPG format, size 960 x 640 (for horizontal images), 640 x 960 (for portrait photos) to ensure the quality of images displayed on the fanpage;
The image represents the content to be transmitted, is creative; The Organizing Committee does not accept the photo works that have been awarded in any previous competitions.
With video clip entries: 
Video entries must be at least 60 seconds and maximum 3 minutes; Size <25MB
Full HD video format, 720p or higher, clear image and sound, minimize shaking, blurry image, unclear content;
The videos are guaranteed to be copyrighted in terms of sound (if any background music is used), the Organizing Committee is not responsible for the loss of sound from your submission due to copyright infringement;
The video shows the content to be conveyed and is creative; Videos are used with visual and sound effects;
The Organizing Committee does not accept video clips that have been awarded in any previous contest.
Message:  Clearly show the topic of the contest, the message content is short, concise and meaningful with a message length of 100-200 words;
Special note: 
The Organizing Committee only records the interaction points (like / drop hearts, share) on the entries posted on the Fanpage "Simon Vietnam Company";

Any contest that does not comply with the above rules is an ineligible entry and will not be allowed to participate in the following rounds.
Any questions please contact:
Entries must be completely filled in from below: