Product
Anti-shock Aptomat 30mA 6000A 4P
| | |
| --- | --- |
| Type Aptomat | Aptomat RCBO |
| Cutting line | 6000A |
| Electricquota | 63A |
| Rated voltage | 230/240V – ~ |
| Classify | 4P |
Contact to buy
Simon SMB65CL-63C63/4 . 4-pole anti-shock Aptomat meet the needs of household use, control circuit, used to switch off the circuit when there is an overload, short circuit, protect the safety of users and electrical equipment.
1. What is anti-shock Aptomat?
Aptomat (CB - Circuit Breaker), also known as automatic circuit breaker, is an automatic switching device with the function of protecting overload and short circuit in the electrical system. Some lines of aptomat have additional protection against leakage current called leakage aptomat or shockproof aptomat.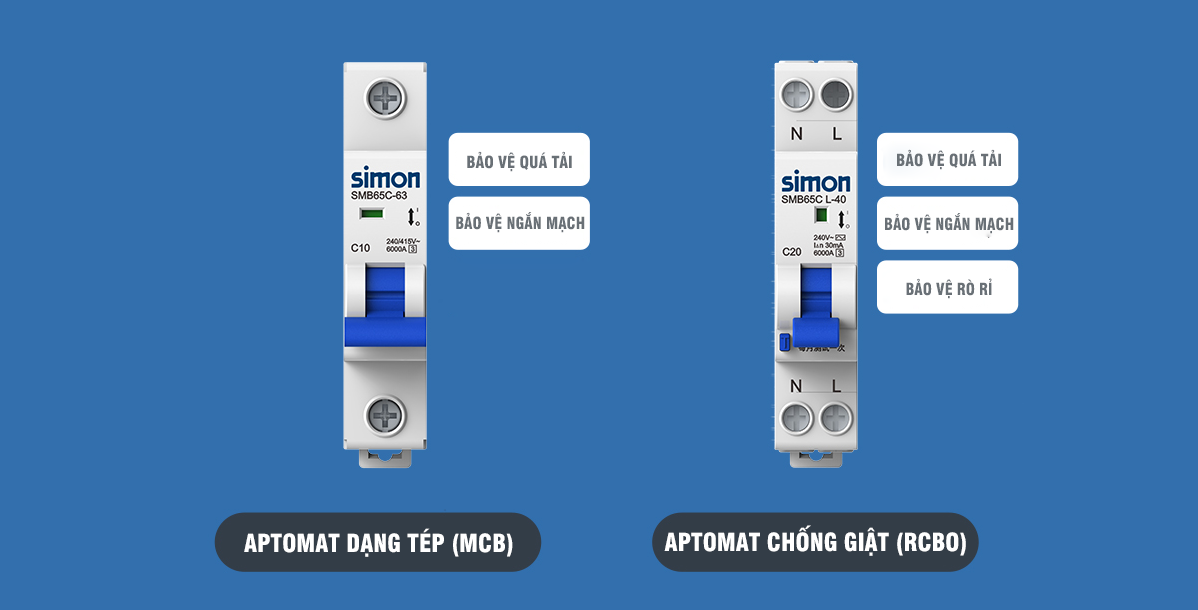 Anti-shock Aptomat also known as ace anti-shock, anti-shock CB, anti-leakage Aptomat, anti-leakage circuit breaker... with the following common types:
Residual Current Circuit Breaker (RCCB) Aptomat
Aptomat with overload protection RCBO (Residual Circuit Breaker with Overcurrent protection)
Block-type surge protector with ELCB (Earth Leakage Circuit Breaker) overload protection
For Simon's Aptomat are classified into 2 main types of aptomat based on product function, which are:
Shrimp Aptomat MCB (Miniature Circuit Breaker): Overload and short circuit protection.
Anti-shock Aptomat RCBO (Residual Current Circuit Breaker with Overcurrent Protection): Anti-leakage and overload protection.
*** Meanwhile RCCB has only leakage current protection function, need to combine with MCB for overload protection: RCCB + MCB = RCBO.
2. Features of Simon SMB65CL-63C63/4 . 4-pole anti-shock aptomat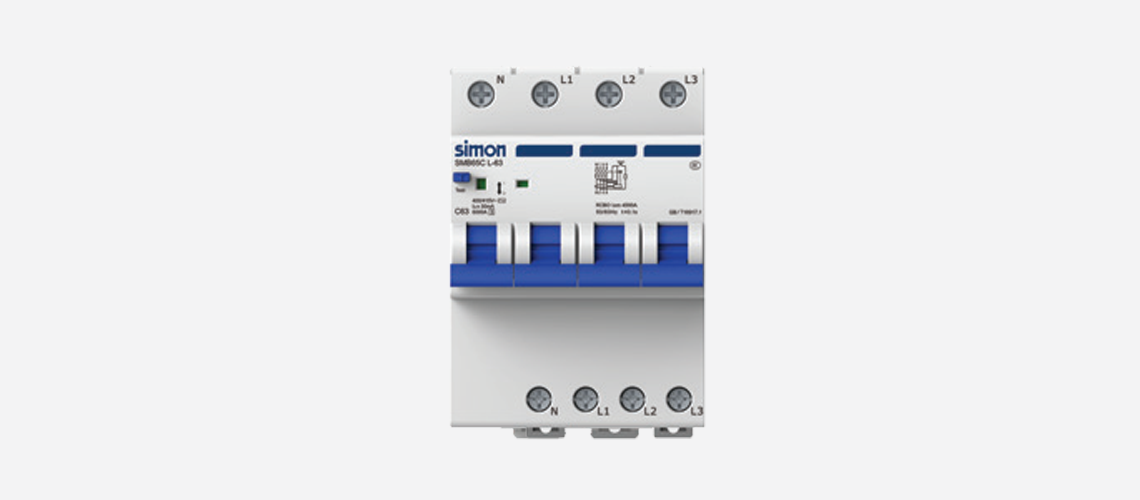 Simon SMB65CL-63C63/4 4-pole anti-shock Aptomat helps protect your home from overloads and short circuits in the electrical system, preventing the risk of fire and explosion.
The mechanical structure ensures that the aptomat is isolated when the lever is in the OFF position.
The distance between the conductive part in the aptomat and the lever in contact with the operator is more than 7mm (Standard 3mm) which is safe, convenient for the operator, and easy to use.
The SMB65CL-63C63/4 (RCBO) leak-proof Aptomat (RCBO) provides overload and short-circuit protection for lines or other electrical equipment in civil, industrial and commercial power distribution systems.
Products are manufactured and tested under strict conditions according to international standards, providing high durability and absolute safety during use. There is an on/off display window for users to easily observe and determine if the aptomat is closed or open.
3. Specifications of 4-pole anti-leakage aptomat
Rated current: 63A
Connection type: Suitable for electrical wires with cross section =<10mm2
Rated voltage: 240V – ~
Durability: 20,000 times
Sensitivity: 30mA
Short circuit breaking capacity: 6000A
Level limit: 3
Operating Temperature: -5°C~40°C
Heat and humidity impedance: Class 2 (55°C, humidity 95%)
Qualified: GB10963-2005 standard, IEC61009-1 standard, EN61009-1 standard, CCC certification
Maximum installation height: <=2000m above sea level
>> View more product lines 2 phase aptomat
| | | |
| --- | --- | --- |
| Product code | Electricquota | Width (18mm) |
| SMB65CL-63C63/4 | 63A | 4 |