Product
FM60 . Ceiling Spotlight
| | |
| --- | --- |
| Voltage | 220-240V / 50-60Hz |
| LED chips | COB, HS luminescence 120Lm/W |
| Color temperature | 3000K/4000KZK |
| IP index | 20 |
| Longevity | 40000 hours |
Contact to buy
FM60 . Ceiling Spotlight Featured with soft round shapes, elegant colors, bringing a delicate, luxurious and modern beauty to each lighting space. Products with a variety of 3W, 5W, 7W, 9W power types with different projection angles will help users have many choices.
1. Outstanding features of the FM60 Simon . ceiling spotlight

Design
LED spotlight FM60 Simon designed a luxurious, round cylinder suitable for many spaces.
Body made of aluminum + super durable PC plastic, resistant to environmental impacts, helping to improve product life.
Light source
FM60 Simon ceiling spotlights use high-end COB LED chips, which are super bright, do not emit heat and operate stably with a lifespan of up to 40,000 hours.
Various lighting angles 12°, 20°, 30° make it easy for users to choose.
Light distribution is wide and even, limiting glare, safe for users' eyesight.
Including warm, neutral light types with high color rendering index CRI>95, true light quality.
High lighting efficiency, energy saving
Simon ceiling spotlight with luminescent performance of 120Lm/w LED chip depending on power type, for strong, clear light, suitable for lighting offices, hotels, and commercial centers.
The product has high power saving ability due to good heat dissipation system.
Environmental friendliness
The product emits a realistic and pleasant light that does not cause eye fatigue.
The product does not contain mercury, does not emit ultraviolet (UV) rays, so it is very safe for users.
2. FM60 . ceiling LED spotlight application
Simon spotlights focus on the right spot that you want to highlight in the space. Therefore, the product is widely applied in lighting areas such as:
Customer Service Counter
Transaction counter, cashier area
Restaurant Hotel
Shopping mall, supermarket…
Simon Vietnam Company specializes in providing recessed spotlights and spotlights, helping to create accents for the space to stand out. Please contact us immediately to know more about other types of interior lights used in decoration!
>> See more: Recessed spotlights FD62
| | | | | | | | | | | |
| --- | --- | --- | --- | --- | --- | --- | --- | --- | --- | --- |
| Wattage | 3W | 3W | 5W | 5W | 7W | 7W | 7W | 9W | 9W | 9W |
| Product code | N04C4-1061/62 | N04C4-1063/64 | N04C4-1065/66 | N04C4-1067/68 | N04C4-1069/70 | N04C4-1071/72 | N04C4-1073/81 | N04C4-1075/76 | N04C4-1077/78 | N04C4-1079/80 |
| HS luminescent lamp (Lm/W) | 45 | 45 | 38 | 38 | 40 | 40 | 40 | 40 | 40 | 40 |
| Projection angle | 12° | 20° | 12° | 20° | 12° | 20° | 30° | 12° | 20° | 30° |
| Product Dimensions (mm) | 40×45 | 40×45 | 50×60 | 50×60 | 60×75 | 60×75 | 60×75 | 60×75 | 60×75 | 60×75 |
| Hole Size (mm) | 35 | 35 | 45 | 45 | 55 | 55 | 55 | 55 | 55 | 55 |
General information:
| | | | |
| --- | --- | --- | --- |
| Lifespan: 40,000h | LED Chip: COB | IP: 20 | Color temperature: 3000K/4000K |
| Voltage: 220-240V / 50-60Hz | PF Index: 0.5 | CRI: >95 | Case material: Aluminum + PC plastic |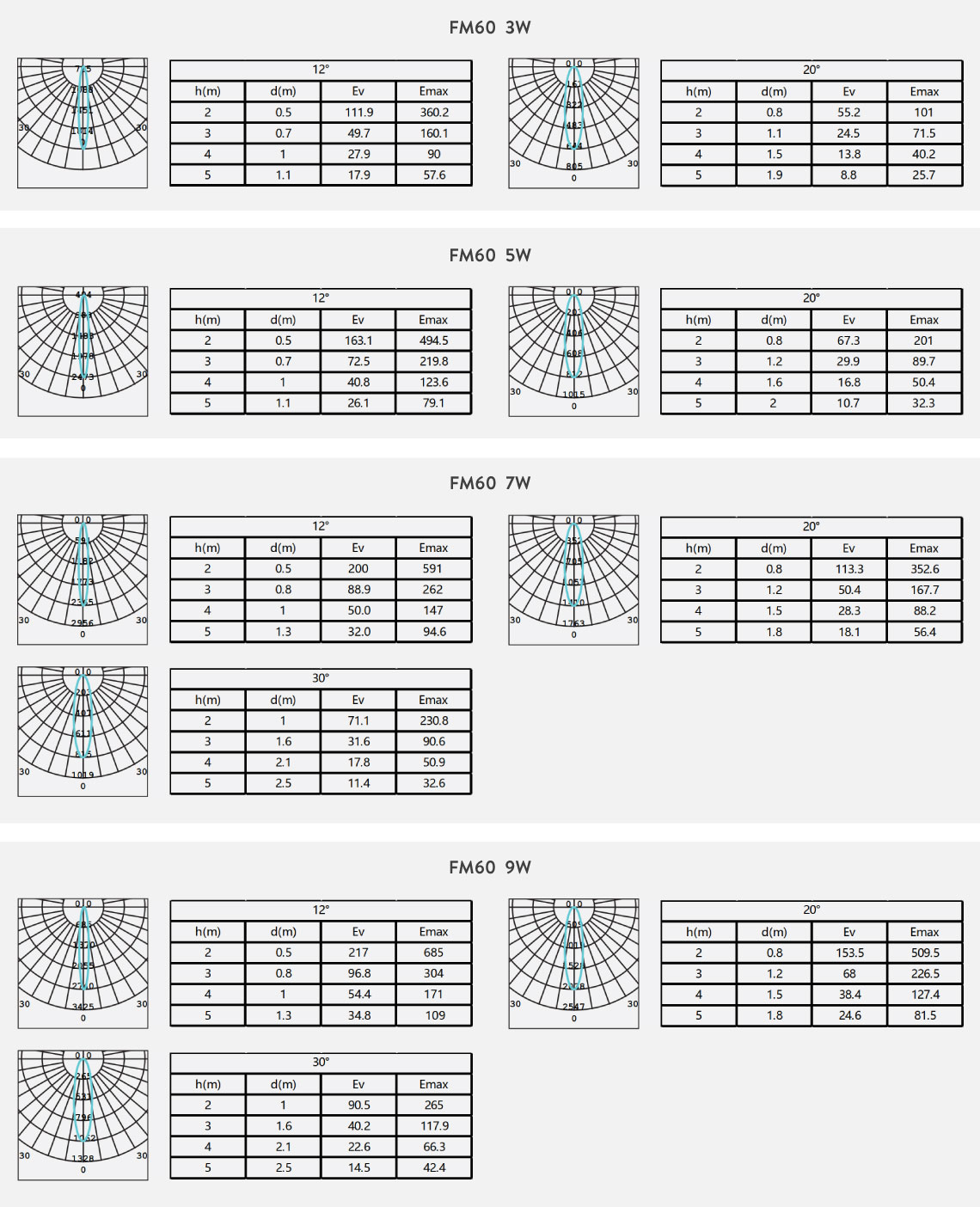 Sản phẩm khác